IMAGINATION BEYOND LIMITS!
Mirco Graenert Consulting Inc.
                                YOU HAVE PRESSURE?  Then measure it!


We have been further developing the already impressive array of uses of their sensor film in the area of metal Stamping, primarily in Fine blanking and Progressive dies.  We have found new ways of applying this film in this volatile area.  The bottom line:  It is very valuable to know what the actual pressure readings in your stamping die are, and how they change when you make adjustments to the shut height, hardware, or your set up.  The film is inexpensive, and samples are free!

News articles detailing some of our findings within metal Stamping and manufacturing were released and  published May 2009 in "Metal Forming Magazine" (pg28), and in June 2009 on the cover of DPN (Design Product News) http://dpn.clbmedia.dgtlpub.com/2009/2009-07-31/home.php and July in "The Fabricator" as well as "CIM" Canadian Industrial Manufacturing. 

We are currently exploring other and higher pressure applications and will create new news releases, sharing our findings to advance industrie and provide solutions to our customers.

There surely are  thousands of uses in all the various dies that are out there.  Knowing where, and how much local pressures exist (not just tight spots) can reduce the cost of maintenance in stamping dies when coupled with die knowledge.  Tests have shown that there is a potential for using the film as a set up and analytical tool for a variety of dies and local pressure areas such as gradual horizontal forms and most other flat contacting surfaces.

Call us to discuss your pressure application!

In our recent 400 Ton Progressive metal stamping test we have proven that the sensor film can be used to fine tune dies and aid in tool balancing, all with a simple to read indicator strip similar to the consistancy and thickness of paper.

Please contact us to purchase your sensor film or for a free sample:  In Canada:  905 715 7575 or Toll Free 1 877 415 7575.

Click images below to view .pdf documents

Sensor Products Sensor film fabric press application CLICK for the .pdf BELOW

Sensor Products Sensor film bolted joint application head gasket example


Sensor Products Sensor film Vise pressure measurement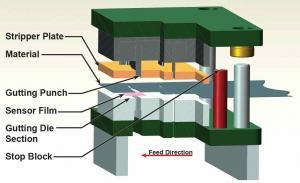 Stamping Die applications and much more!  Pressure is all around us, when we capture it and learn how to control it we optimize!

One of the successful tests performed in a progressive die clearly shows the pressure areas surrounding a gutting punch and the stripping forces associated.  Coining forces and bumper block areas were also recorded within seconds.

        PRESSURE SENSITIVE FILM MEASURES PRESSURE IN SECONDS, NO WIRES!
                                                   CUSTOM SHAPE SENSORS TAILORED FOR YOUR SPECIFIC APPLICATION - STAMPING AND MORE

We have recently had News releases Published in Design Product News, Metal forming Magazine and most recently in the Fabricator Magazine.  We have used the sensor film in extreme environments in metals stamping, measuring pressure points in dies accurately with an inexpensive paper like sensor.
We are proud to say that we can assist our Canadian customers with product sales and applications.
Want to know more, or obtain a free sample? 

Give us a call 905 715 7575.